Magazines often feature gorgeous spreads of sprawling bathrooms with incredible fixtures, luxurious tiles and so much space. Your bathroom, though, is tiny. As incredible as those looks are, you know that they probably won't work for you.
Small space shouldn't limit big vision. With the right bathroom tile design ideas for small bathrooms, you can find inspiration for a beautiful remodeling project that will work just right in your space.
Choose a tiny pattern
The bathroom is small, so the tiles can be small too. Using tiny tiles is a smart way to incorporate multiple colors into your design.
Take a look at the tile design on this bathroom floor. It includes cream and coral as well as several different shades of blue and gray. Because the pattern is small and the colors are muted, the design feels calm and comforting rather than busy.
Univo Aroma Star Mosaic - View Details / Get Quote »
Go for big and bold
Of course, small tiles are only a suggestion and not a hard-and-fast rule of thumb. In some cases, you might want to go for the exact opposite look. Sometimes, big tiles help a small space feel more expansive than it really is.
If you choose a large, bold pattern for a small space, think about keeping the color scheme simple. This bathroom sticks with a black, white and gray motif for the floor's eye-catching geometric design.
Curv Anner Waterjet Mosaic - View Details / Get Quote »
Install an ombre mural
If you're looking to make a statement, try doing it with a monochromatic color scheme. Pick one color and use variegated shades of it from the ceiling to the floor. Start with the lightest shade and work your way toward darker tones.
Below, notice how itty-bitty square tiles are just right for this job. Also, not only does the design cover the entire wall, but it also spills onto the floor.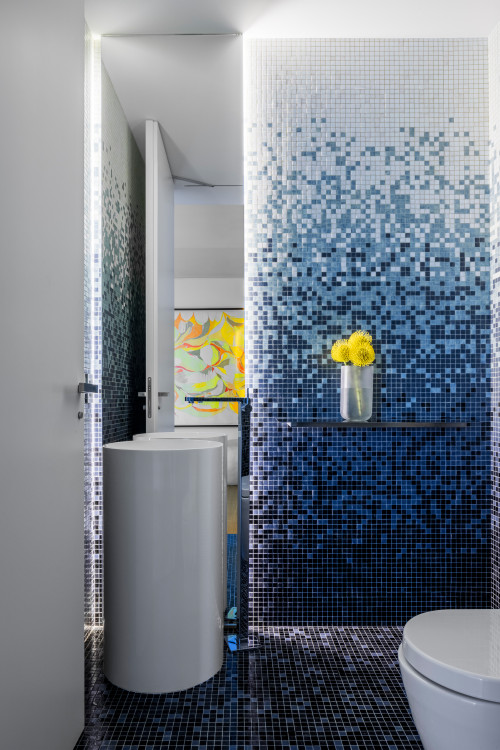 Photo by Jaegger Interior Design
-
Look for bathroom pictures
Lay a tile rug
Bathmats are a common decor element, but they're not really necessary in a powder room. For a more elegant look, you can replace a real rug with a tile design.
The bathroom in this photo accomplishes that look by laying a thin border of dark tiles along the edges of the room and then filling it in with a criss-cross pattern with a plush feel.
Univo Abell Floral Mosaic Pattern - View Details / Get Quote »
Rely on classic subway tiles
Bathrooms can be beautiful without featuring out-of-the-box designs. Long-time favorites are popular for a reason, and subway tiles are among the most enduring. Their predictable pattern provides stable, steady grounding for any room.
The bathroom shown here uses subway tiles for the sink backsplash. Their rectangular shape is a perfect complement for the angular vanity and allows the oval mirror to take center stage.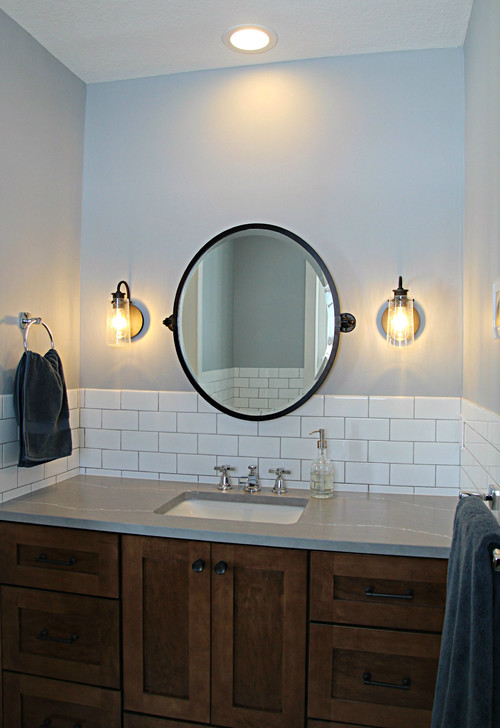 Photo by J Brothers Design | Build | Remodel
-
Search bathroom pictures
Watch this video for more subway tile layout ideas:
Use all available space
When you have a small bathroom, you may need to get creative about where you introduce color and patterns. That might mean placing tile designs in surprising places.
Using the shower floor is a brilliant idea. Here, the homeowners can enjoy graceful fish swimming underfoot every time they shower.
Tapeti Clair Fish Mosaic - View Details / Get Quote »
Emphasize a natural look
For an organic look that's easy and laid back, try outdoorsy stone tiles for your small bathroom floor. Not only are they an attractive addition to a room, but they also provide slip-resistant texture in case the floor gets wet.
This small bathroom achieves a natural look with tumbled river rock. Pebble tiles would be another option to consider.
River Rock Aloe Tumbled Stone Mosaic Blend - View Details / Get Quote »
Contrast the walls and floors
The design principle of contrast is beneficial for giving rooms visual depth and interest. In a small space, black and white is a great color combination to use for achieving this look. It's both bold and grounding at the same time.
Here, the black floor breaks up the all-white scheme of the bathroom. A white border design and tiny white flecks scattered throughout the dark tiles promote a sense of unity with the walls, fixtures and counter.
Tunisian Phinn Mosaic Leaf Border - View Details / Get Quote »
Use a refreshing color scheme
Water is a key theme in the bathroom, and your tile design can reflect that. Blue is the color that we most frequently associate with water, so it seems like a natural hue to use in your small bathroom.
Check out this bathroom, which features floor tiles in a refreshing shade of aqua. The irregular layout of the tiny tiles creates a sense of movement, just like water that gently ripples along the shore.
Studio Quad Lagoon Modular Mosaic - View Details / Get Quote »
Create a tile border
Wallpaper borders are a classic approach to adding pattern to a room without overwhelming a small space. Not all wallpaper can stand up to splashes from the sink, though, so using this material in the bathroom requires careful shopping and special care. You can save yourself the hassle by installing a tile border instead.
You can see an example of this in the bathroom photo below. The tile pattern is similar in width and style to a wallpaper border, but it's much more impervious to water damage.
Tunisian Tansy Circles Mosaic Border - View Details / Get Quote »
Small Bathroom, Big Vision
Have you found inspiration from these bathroom tile design ideas for small bathrooms? These bathrooms may not have much space, but that doesn't stop them from featuring incredible tiles and crave-worthy designs.
You can take a cue from one of the above photos for your next remodeling project or try an idea of your own. For whatever approach you choose, turn to the professionals at Artsaics to bring your vision to life. Reach out to schedule your free Artsaics design consultation today.