Large rooms are great for having space to spread out. They can also present some design challenges. In particular, you may feel unsure about how to choose the best tiles for covering a spacious floor.
While everyone has different design tastes, there are some basic principles that can help you select the best tile for large spaces. Check out this flooring guide for tile recommendations that will work well in your biggest rooms.
Big Room, Big Tiles
Design experts often recommend using large-format tiles for big rooms. Large-format tiles are those larger than 12 inches by 12 inches. In many cases, they measure 18 inches or even 24 inches wide.
Large tiles give floors a smooth, unified look. That's because they are interrupted by fewer grout lines than floors that use small tiles.
The more grout lines there are, the busier your room design will seem. Across an expansive floor in a large space, this busy effect could be amplified. You can avoid the issue by sticking with larger tiles.
An additional benefit of large-format tiles is that they make rooms seem bigger. Even though you're starting with an expansive space, you may appreciate the even grander feel that large tiles can lend to your room.
Octagon with Large White Stone and Small Black pattern - View Details / Get Quote »
Budget Considerations
Home design experts usually talk about flooring costs in terms of price per square foot. Having more square feet usually leads to more expensive final costs. When you're tiling a large space, the price can add up quickly.
If budget considerations are a top consideration for you, it might be a good idea to choose a more affordable type of tile. For example, ceramic tiles can be one of the most economical choices. Some varieties are available for as little as $1 per square foot. The starting price for porcelain tiles is usually a bit higher.
You don't have to rule out natural stone tiles just because you're on a budget. Rather, you can opt for one of the lower-priced varieties of stone tiles. Pocketbook-friendly choices often include limestone, travertine and slate. Marble, on the other hand, may sit at the top of the price list.
Installation is another pricing factor to keep in mind. Square footage is just one element involved with installation costs. If you need to keep down the cost of tiling your spacious room, it may be beneficial to select a simpler layout. For example, choose a straightforward rectangular pattern rather than one with diagonal lines.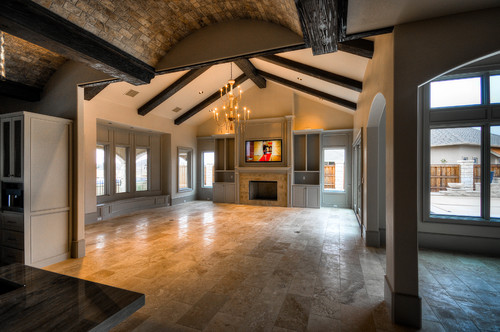 Photo by HI-FIDELITY
-
Search living room pictures
Careful Footing
As you hurry across a wide floor, staying upright might not be the top consideration on your mind. Unfortunately, a large, smooth stretch of floor might create just the right conditions for slipping and falling. It's a good idea to select tiles that will provide some traction underfoot. That may be especially important if you expect the floor to get wet or there will be kids who often scurry through the room.
Homeowners often associate marble with slick surfaces and slate with a rough feel. While each of those ideas can be true, they aren't hard-and-fast rules. The same type of stone can often be purchased in a variety of finishes.
Three of the most common stone finishes are polished, honed and tumbled. Polished tiles are likely to be the slickest, and tumbled ones feature the most texture. Honed tiles fall in the middle.
You can see an example of tumbled travertine tiles in the following video:
If you're set on the glossy look of polished tiles, you may want to use a few throw rugs to vary the texture throughout the room.
A Look to Love
Finally, when placing tiles across a large room, make your vision for the space a priority. Because your floor is expansive, you're going to be looking at a large stretch of your chosen tiles day in and day out. You'll be happiest if you settle on a look that you love.
For some people, that will mean sticking with traditional designs in neutral colors. Others may prefer bold patterns or an eye-catching medallion at the center of the design.
A tile professional can help you refine your vision and select the right tiles for achieving it. Also, choosing professional installation by an experienced tiling team can help ensure that the finished product will look beautiful and hold up for a long time to come.
Tapeti Catalina Mosaic Medallion - View Details / Get Quote »
Artsaics for Your Large-space Tiling Project
When you're in the market for the best tile for large spaces, take a look at large-format tiles. Keep costs in mind, and also make safety a top priority by choosing textured tiles. Finally, select a style that suits your personal tastes and coordinates with the look of your home.
For the best results, rely on Artsaics for the tiling projects in your large rooms. Our artisans will craft a plan that complements the size of your space and reflects your design vision.