For more than a century, homeowners looking for warm, welcoming designs have turned to Craftsman decorating ideas.
With an emphasis on natural materials and handmade items, Craftsman-style homes are a refuge from the industrial world. The best tiles for Craftsman-style homes will help you bring this look into your living space.
What Is Craftsman Style?
Craftsman-style architecture and decorating became popular in the early 1900s.
Its origins actually reach a bit farther back, though. During the late 1800s, some British designers began to rebel against ornate Victorian looks and factory-produced items. This was the start of the Arts and Crafts movement, which focused on simple, handmade goods.
As the style made its way to the United States during the early 20th century, Craftsman architecture and design became particularly popular in southern California. The Greene brothers, Henry and Charles, were two well-known promoters of this style. The Midwest area of the country was another area where the look really took off.
Although the Craftsman style originated more than 100 years ago, it's still a beloved design choice today. Homes with a Craftsman look often feature:
Bungalow-style architecture
1.5-story height
Colors reminiscent of nature, especially browns and greens
Contrasting or complementary colors
Shaped or patterned tiles
Bold lines
Visible rafters
Tapered columns
Natural stone elements
Dark wood floors and trim
Large, homey fireplaces
Built-in cabinets, seats and shelves
To learn more about interior and exterior features of Craftsman-style houses, watch this informative video:
How to Create a Craftsman Look with Tiles
1. Outdoor Ledger Stone
Using the best tiles for Craftsman-style homes begins before you even walk in the front door. This architecture style usually features a front porch accented by tapered columns. The columns rest on sturdy piers, which are often made of natural stone. This could be a great spot to incorporate ledger stone tiles into your design.
Craftsman homes also tend to place stone elements along the foundation line of the house. If you're using ledger stone for your pillars, you may want to continue the look with additional ledger stone that sits below your siding.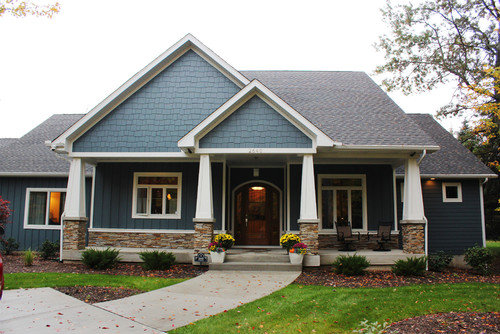 Photo by Greystone Homes LLC
-
Discover exterior home design inspiration
2. Fireplace Accents
Indoors, Craftsman homes aim for a cozy, homey feel. One of the best ways to achieve that is with a large fireplace in the main living area. Some Craftsman-style homes even have two or more fireplaces.
These fireplaces may be surrounded by bricks or tiles. Square tiles, often about 4 inches by 4 inches, are particularly popular for this job. Slate and unpolished marble are sometimes recommended as top choices for natural stone fireplace surrounds. To make the most of traditional Craftsman color schemes, you might want to select a green marble, such as Verde Luna or Olive Green.
Verde Luna - View Details / Get Quote »
Olive Green - View Details / Get Quote »
3. Stone Elements
Because this style emphasizes a connection to nature, wood and stone accents are at home throughout Craftsman houses. Either River Rock or Pebble tiles could add an authentic Craftsman element to your bathroom decor. The front entryway or the kitchen backsplash might be other smart spots to incorporate these stones.
River Rock Aloe Tumbled Stone Mosaic Blend - View Details / Get Quote »
River Rock Aloe Tumbled Stone Mosaic Blend - View Details / Get Quote »
4. Geometric Mosaics
Craftsman decorating emphasizes straight lines, but that doesn't mean that tile patterns need to be perfectly uniform. Rather, this style allows you the freedom to play with fun arrangements of straight-sided shapes. Try the kitchen backsplash as a spot to highlight such designs.
The Studio Quad line features rectangular tiles of varying sizes that fit together in a cohesive pattern. The Cappuccino color option plays with warm, earthy shades of brown that will fit right into a traditional Craftsman scheme. If you'd prefer a bolder color contrast, the Calacatta Dark Emperador Marble Basketweave could be another mosaic pattern to consider.
Cappuccino - View Details / Get Quote »
Cappuccino - View Details / Get Quote »
5. Hexagonal Tiles
For a look that's drawn straight from the original Craftsman period, try hexagon-shaped tiles. Hexagons are a common shape for tiles, so you'll be able to find them in ceramic, porcelain and marble options. They'll work especially nicely for bathroom floors or walls. You can even arrange small hexagons into larger hexagonal patterns.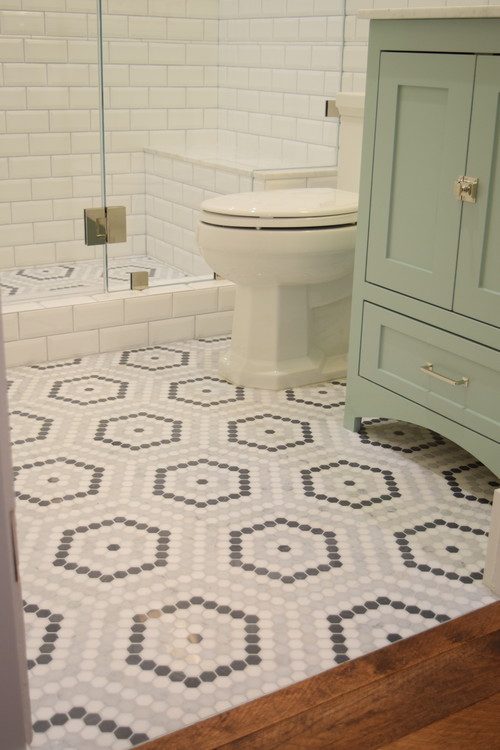 Photo by Alison Interiors
-
Look for bathroom pictures
6. Hand-painted Tile Designs
Since the Craftsman movement came out of a desire to get back to made-with-care artistry, there may be no better addition to your Craftsman-style home than hand-painted tiles. Nature designs were particularly popular for painted tiles during the original days of this decorating style. You may want to include some Ornamenti painted borders in your home.
Ariel Border Durango - View Details / Get Quote »
Andy Border Botticino - View Details / Get Quote »
7. Art Nouveau Patterns
While steering away from excess ornamentation, in general, some original Craftsman homes still drew inspiration from Art Nouveau styles. Art Nouveau developed around the same era as the Arts and Crafts movement, and both styles share ties to natural elements.
If you want to capture a bit of an Art Nouveau look in your Craftsman house, consider using some etched tiles from the Bordo Antico line.
Perdix - View Details / Get Quote »
Rangi - View Details / Get Quote »
Using the Best Tiles for Craftsman-style Homes
For a warm, down-to-earth feel, think about decorating your house in a Craftsman style. Natural elements, rugged lines and inviting fireplaces will welcome you in and help you feel right at home.
Tile was a common element in original Craftsman-style buildings, and it can play a key role in your Craftsman remodeling project. Whether you're interested in rough stone, colorful squares, ornate nature patterns — or a mix of them all — Artsaics can help you find the right tiles for your project.