Farmhouse style is a popular aesthetic for contemporary houses. Homeowners gravitate toward this look to create living spaces that are both beautiful and comfortable. Farmhouse decor feels warm and inviting.
As you plan a farmhouse redecorating project, consider the ways that tile could help you achieve the desired look. To get started, take inspiration from this guide to the best tiles for farmhouse-style homes.
1. White Palette
The main color in most farmhouse homes is white. You may find shades of white all over the house, from the walls to the furniture.
A white color palette has long been popular in the classic farmhouse style that's been around for years. It's also a staple in the more recent trend toward modern farmhouse decor. To learn more about the modern farmhouse look, spend some time watching the following video:
There are countless options for white tiles, so you should have no trouble finding a few varieties that strike your fancy. Whether you'd prefer classic or modern farmhouse decor, check out Afyon White marble. This white stone has just the slightest hints of gray veining.
Afyon White - View Details / Get Quote »
White Carrara marble is also incredibly popular for this style.
Carrara Floor - View Details / Get Quote »
2. Light Neutrals
While white is the main color in farmhouse homes, you can bring in other hues, too. Designers often turn to light shades of neutrals like tan and gray. These colors are earthy, and they also coordinate nicely with the natural woods that are popular in farmhouse decor.
Linen from the Piedmont line is a gray mosaic pattern that might add visual interest to your home design.
Linen - View Details / Get Quote »
If beige is more your thing, check out Sesame from the Suji collection.
Sesame - View Details / Get Quote »
3. Outdoor Colors
Although white and light neutrals are key to any farmhouse room, some of the best tiles for farmhouse-style homes feature rich colors.
Keep in mind, though, that farmhouse style aims for a very natural feel. You'll want to convey a sense of being connected to the land. When including pops of color in your design, then, it makes sense to choose shades that you could find in nature.
Think of the blue of a clear sky and the green of spring grass. You could also aim for the yellow of fresh butter or the warm red of a poppy. Those shades feel warm and familiar.
While you might not want to use those bright colors throughout your house, they provide a stunning way to draw attention to an accent area, such as the fireplace surround or the kitchen backsplash.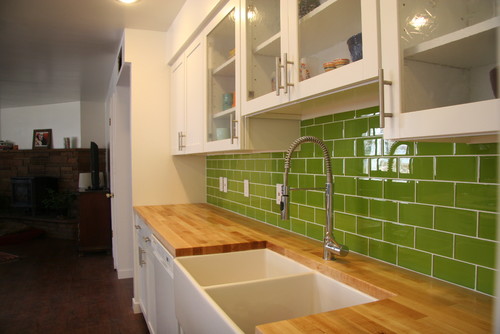 Photo by AJH Construction Inc.
-
Search kitchen pictures
4. Herringbone Layouts
The reliable repetition of a herringbone pattern fits right into a farmhouse decor scheme. This look is sometimes referred to as a "broken zigzag" because of the back-and-forth pattern of the rectangular sections. You'll often find it inlaid in wooden farmhouse tabletops.
Of course, tiles are another great way to incorporate a herringbone look in your home. The style could be a warm addition to the walls or the floors. Consider it for your shower surround, your kitchen backsplash or your entryway floor.
The Blanch line includes several herringbone-style mosaic patterns, including Jad and Adre.
Jad - View Details / Get Quote »
Adre - View Details / Get Quote »
5. Kitschy Patterns
Farmhouse style is often infused with knick-knacks, antiques, and other odds and ends. You can play on that look by including unique tiles here and there throughout your home.
While farmhouse design often emphasizes clean lines, patterned tiles are a great place to introduce playful curves, bold geometrics or floral motifs. The designs can use neutral or colorful palettes.
Keep in mind that farmhouse decorating doesn't rely on maintaining uniformity throughout every room. You can place a fun pattern in just one area without feeling any pressure to use it elsewhere. You can even mix and match patterns if you'd like.
Options to consider include Cirus and Emont from the Curv line or Amall from the Univo collection.
Cirus - View Details / Get Quote »
Emont - View Details / Get Quote »
Amall - View Details / Get Quote »
6. Wood-look Tiles
Wood elements add a rustic touch to farmhouse-style homes. This natural material makes its way into furniture, countertops, mantles, trim and more.
There's a secret that you should know about wood looks, though: You don't need real wood to accomplish them! You can also use tiles that mimic the appearance of natural timber.
It's common to use these tiles as a floor covering. They could make a great addition to your kitchen or bathroom, especially since tile is often more water-resistant than wood.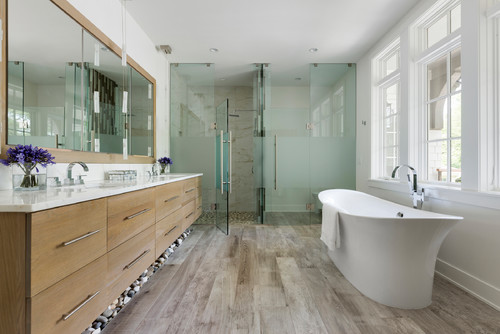 Photo by ADŌR Homes
-
More bathroom ideas
Shiplap Suggestions
Many houses with farmhouse decor include shiplap elements. This design trend plays off of farmhouse style's emphasis on wood. Traditionally, shiplap is a type of wall siding, meant to be covered by paper or another treatment. These days, though, many decorators make these narrow boards the star of the show.
Think about using tiles to create a shiplap-type look. For example, you could use 3-inch-by-12-inch strips of travertine in light and dark shades.
Durango - View Details / Get Quote »
Noce - View Details / Get Quote »
Tiles for Your Farmhouse Home
Is farmhouse-style decor the right choice for your next home design project? If so, be sure to select a variety of tiles to help you accomplish the look. From white walls to patterned accents, there are countless uses for tile in your farmhouse decorating.
Of course, you don't have to do it alone. For help in selecting the best tiles for farmhouse-style homes, reach out to Artsaics. Our experts will help you plan and design the best tile looks for your renovation.