The kitchen may be one of the most high-traffic rooms in your house. As the saying goes, "The kitchen is the heart of the home." It's only natural, then, that you should put good thought into the best flooring material to use in this room.
The right tile material for your kitchen depends on your personal tastes, your budget and your upkeep preferences. The following guide to the best tiles for kitchen floors can help you settle on the right choice for your home.
Kitchen Option #1: Ceramic
For many years, homeowners have been relying on ceramic tiles in their kitchens. This material, a form of fired clay, is available in a wide variety of shapes, styles and colors.
Glazed ceramic tiles have a built-in protective coating so they won't absorb the splashes that will inevitably end up on your kitchen floor.
Plus, ceramic is usually pretty affordable compared to some other tile materials. If you are set on tile but are redoing your kitchen on a budget, it's worth taking a look at ceramic tiles.
Ceramic isn't the most robust flooring material out there, though. Dropping items on the floor could lead to cracks in one or more of the tiles.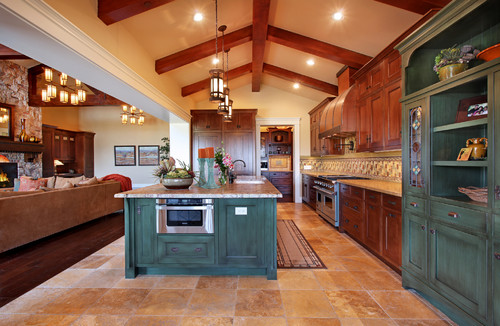 Photo by Studio 6 Architects
-
Search kitchen design ideas
Pros:
Affordable

Many colors and styles

Splash-resistant when glazed
Cons:
May chip or crack sooner than you'd like

Can absorb spills if unglazed
Kitchen Option #2: Porcelain
Ceramic's close cousin is porcelain. In fact, porcelain is a type of ceramic. For increased strength, durability and water resistance, porcelain tiles are made of extra-dense clay, and they're fired at particularly high temperatures.
Like non-porcelain ceramic, porcelain tiles are available in a rainbow of colors and a vast selection of designs. Some resemble high-end natural stone materials, such as marble.
Most porcelain tiles are glazed, which further increases their ability to resist stains and spills. Plus, they'll hold up better to wear and tear than standard ceramic. If you have young children or tend to be a messy cook, porcelain can be a reliable tile choice.
Porcelain tiles range greatly in price. Some are good for homeowners on a budget, but others can be more expensive than some genuine stone options. Porcelain won't automatically improve your home's value like marble can, though.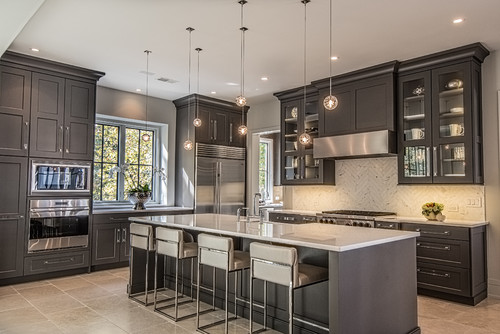 Photo by Murphy Maude Interiors
-
Search kitchen pictures
Pros:
Durable and not easily damaged by moisture or messes

Available in colors and patterns to suit any style
Cons:
Some varieties can be expensive

Doesn't usually raise home value
Kitchen Option #3: Travertine
If you have your eye on natural stone tiles, travertine is certainly a material worth your consideration. This variety of limestone can add an elegant yet earthy warmth to your kitchen design. It's available in neutral shades from light white to rich brown.
White - View Details / Get Quote »
Noce - View Details / Get Quote »
For kitchen purposes, honed travertine is usually the way to go. The slightly textured surface offers natural slip-resistance, even when water is splashed on the floor, but it's still easy to clean. Polished travertines are sometimes a bit slick for use on the kitchen floor, but you can ask your tile designer for advice.
You can count on travertine to be durable. It's one of the harder natural stones typically used for kitchen flooring applications, and it does a good job of resisting scratches.
Travertine typically receives a coat of sealant to protect it from tomato sauce, wine or other food spills that could stain it. Even still, it's a good idea to clean up any splashes right away. If you're the type of homeowner who does a nightly wipedown of the kitchen floors and counters anyway, travertine could be the perfect fit for you.
Travertine Floor - View Details / Get Quote »
Pros:
Available in textured finishes

Doesn't scratch easily

More affordable than most marble
Cons:
May stain if not cared for properly

Limited color palette
Kitchen Option #4: Marble
For many homeowners, marble offers the elegance and sophistication that they desire. It's natural beauty has given it an impressive reputation.
This natural stone is available in more color options than travertine. Plus, marble tiles often feature unique veining patterns.
Olive Green - View Details / Get Quote »
Blue Bahia - View Details / Get Quote »
Rain Forest Green - View Details / Get Quote »
If you decide to install marble flooring in your kitchen, you can expect to fall in love with results. There's not much that compares with its beauty.
It's smart to go into the commitment with a full understanding of marble's qualities, though. This material isn't quite as hard as travertine, so it may be more prone to breaks or scratches.
Plus, you'll want to talk to your flooring expert about the best variety to use since glossy marble can be slippery when wet. Of course, laying a few mats or rugs in the most splash-prone areas of the room can help with that issue.
Lt. Emperador Plank Floor - View Details / Get Quote »
Pros:
Can increase home value

Multiple color choices
Cons:
Can be slick

Softer than some other natural stones

Expensive
Keep in mind that there are other natural stones that you may want to consider for your kitchen floor as well. Options include slate and limestone. The tile artisans you choose for your kitchen remodel can advise you on which tiles, whether ceramic, porcelain or stone, are right for your home.
To learn more about the best tiles for kitchen floors and start the selection process, make a call to our
Artsaics team
.