Your Long Island home is ready for an update. What tiles should you use for your remodeling project? While there are countless tile styles that could be great additions to your property, there are some designs that are especially well suited to Long Island houses.
To help you brainstorm the right tiles for your project, check out this helpful guide to some of the best tiles for Long Island homes. You'll find suggestions for living areas, bathrooms, kitchens and even outdoor spaces.
Hamptons Marble
One of the most distinctive home styles on Long Island is the Hamptons-style home. This look originated on Long Island and has been a favorite for many years.
Hamptons decorating often incorporates a lot of white. The heavy use of white is meant to lend a serene feel to a seaside home. In particular, white marble floor tiles are a popular look. Many families pair white floors with white furniture to really emphasize the crisp color scheme.
You can get a feel for the white-on-white style in the image below. Notice that the white marble is accented with gray veining; gray is another popular neutral in Hamptons decorating.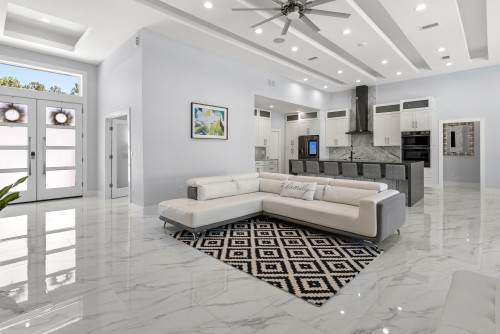 Photo by nFlight Photography
-
Browse living room photos
Are you looking for more decorating ideas for your Hamptons home? Find inspiration in our article "The 7 Best Tiles for Hamptons-style Homes."
Attractive Entryways
Hi-ranches, also known as raised or bi-level ranches, are common on Long Island. In those houses, the main living area sits above the ground floor, so you go right from a small entryway to a set of stairs. If your hi-ranch is due for an update, sprucing up the entryway tile could be just the place to start.
A geometric design on the entryway floor gives the look of a welcoming rug, but it offers several advantages. For one thing, tiles never slip out from under your feet. Also, you can clean them with a broom or a mop rather than needing to break out the carpet cleaner whenever someone tracks in mud.
This entryway features an attractive square tile design that would look at home in many small foyers.
Beachy Blue
Because of Long Island's coastal location, many houses there feature a beachy vibe. Blue is the perfect color for that theme. It makes sense, then, to choose blue tiles for Long Island homes!
What shade of blue to use is a matter of preference. Sometimes, it's a muted tone that gives rooms a relaxed feel. Other times, it's a bolder hue that brings energy to a white Hamptons background.
The bathroom below uses one of the brighter shades. Notice the lively feel that the circular tile pattern lends to the room.
Outdoor Entertaining
When the weather is pleasant, outside is the place to be on Long Island. A spacious patio is a great place for tables, chairs and even an outdoor kitchen. You and your guests may spend hours out there.
In the winter months, though, Long Island experiences snow and freezing temperatures. For your outdoor patio, it's smart to select outdoor tiles that can hold up to seasonal freeze-thaw patterns. Travertine and slate are two natural stone materials that are often recommended for that purpose.
Check out this photo and start thinking about how a tile patio would look in your Long Island backyard.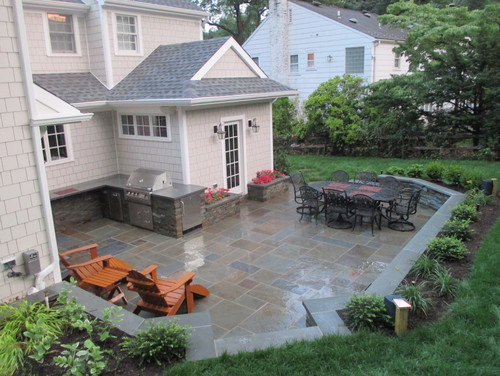 Photo by Jacobsen Landscape Design & Construction
-
Look for patio pictures
Elegant Luxury
Long Island homes come in all price ranges, but some are off-the-charts expensive. Even if you can't afford a mansion with an eight-figure (or higher!) price tag, you can still add some luxurious elements to your Long Island house.
Natural stone tiles are an excellent way to infuse your home with an upscale vibe. Materials like marble, onyx and travertine can dress up houses of any shape and size.
This bathroom offers just one example of marble's elegance. Plus, it features gorgeous blues that fit right into the Long Island look!
Cielo and Blue Bahia - View Details / Get Quote »
To get decorating inspiration from some of Long Island's most expensive houses, take a look at this video:
Rental Readiness
Some Long Island homeowners rent out their properties to eager vacationers. If you do that, it's smart to install durable furniture and flooring so that your home will look good for guest after guest. Natural stone tiles are one of the most long-lasting flooring options.
Travelers will love your upscale tastes. Listing photos that feature your attractive stone flooring may help you secure more bookings. You'll appreciate the design whenever you're at the home too.
Another bonus is that your cleaning crew will find it easy to spruce up the tile floors between guests. With a quick sweeping and mopping job, the home will be ready for the next set of vacationers.
Just think how good the kitchen below would look on a vacation rental website.
Personal Tastes for Your Long Island Home
Above all, the best tiles for your house on Long Island are the ones that suit your personal style. Whether you're into traditional motifs or modern geometrics, you can achieve the look you want with tiles. Your Long Island home can feature any tile design that you have in mind.
For help in picking out the best tiles for Long Island homes, call Artsaics and schedule a time to speak with a tile designer.