The modern design movement came about in the 20th century. Designers pivoted away from ornate Victorian styles and instead opted for clean lines and minimalist decor. Now, decades later, modern design is still going strong.
You can bring this look into your living spaces. Tile can help you accomplish it. With the best tiles for modern homes, you can design rooms that reflect this style trend in fresh, creative ways.
Warm Browns
Modern-style homes often include many wood elements. It's a popular material for shelves, furniture, wall paneling, window frames and more. The wood pieces are often stained or finished with methods that highlight their natural grain and color.
Of course, that means that modern homes often feature many brown items. Modern design embraces that fact and expands the brown theme beyond the wooden items.
For example, you may want to use many earthy brown tiles in your modern-style decorating. They'll serve as a solid, neutral foundation for the rest of your design ideas.
Take a look at marble options like Sable Brown, Light Emperador and Cedar Dark.
Light Emperador - View Details / Get Quote »
Cedar Dark - View Details / Get Quote »
Period Hues
Much of today's modern design stems from the mid-century modern movement of the 1940s, 50s and 60s. While brown is a huge part of that look, bright colors are also involved. You'll find jewel tones, rich reds, golden yellows and various greens throughout many mid-century looks.
For examples of mid-century modern color palettes, be sure to watch this informative video:
The goal here shouldn't be to cover your home from top to bottom with vibrant shades. Instead, you're aiming for pops of color here and there. They should attract eyes and make a vibrant statement.
Where could you use tiles to incorporate these accent colors?
Bathroom or kitchen backsplash
Behind a central piece of furniture, such as the sofa
Fireplace surround
Shower wall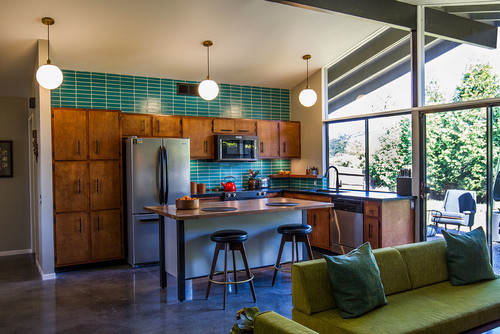 Photo by Fireclay Tile
-
Look for kitchen pictures
For your bold elements, try onyx tiles in Honey and Multi Color Red or marble in Olive Green.
Honey - View Details / Get Quote »
Multi Color Red - View Details / Get Quote »
Olive Green - View Details / Get Quote »
Natural Stone Floors
Mid-century modern homes often featured floors made of natural stone. Travertine and slate were two popular choices during that period.
Travertine tiles, such as Noce and Durango, are available in sizes up to 12 inches by 12 inches. Large sizes like that are ideal for creating the clean-line look that's essential to modern design. Plus, those stones have a matte finish that would fit right in with your modern theming.
Noce - View Details / Get Quote »
Durango - View Details / Get Quote »
Geometric Patterns
Just like you can use color to make a statement in modern design, you can also use patterns. Geometric designs that repeat over and over are especially popular. You'll commonly see shapes like triangles and hexagons. Circles and squares work for this look, too.
Try a double-triangle look using the diamond tiles in the Madison line. The variety shown here is Spice.
Spice - View Details / Get Quote »
Field - View Details / Get Quote »
Duffodil - View Details / Get Quote »
If you'd prefer right angles, rectangle mosaics could do the trick. Options include Soho field and Suji Duffodil.
For an incredible statement, you could choose Dimensione tiles. They feature a 3D pattern created with water jet technology.
Dimension - View Details / Get Quote »
Black and White
Sure, modern design is often saturated with shades of brown. But just like you can use pops of bright colors to draw the eye, you can also use areas of black and white.
In modern design, black and white are often seen together on patterned elements. Tiles with bold designs could be a great way to encompass this color scheme as well as the geometric-pattern trend.
The Univo line of mosaic tiles contains some stellar options for this look. Shown below are Reen, Clary and Zumm.
Reen - View Details / Get Quote »
Clary - View Details / Get Quote »
Zumm - View Details / Get Quote »
Not every line in a modern-style home has to be hard and straight. You'll find organic curves in modern looks, too, such as the ones seen in this Univo Cedron mosaic.
Cedron - View Details / Get Quote »
Stacked Rectangles
Subway tiles, which are typically twice as wide as they are tall, are extremely popular in houses today. They're often arranged in an offset pattern, similar to how you'd build a brick wall.
While you can take that approach in a modern-style home, a stacked arrangement can be an even better choice. It involves stacking the rectangles in neat columns, and it's just right for a decor scheme that emphasizes straight, clean lines. You can arrange the stacks horizontally, as shown below, or turn them on their sides for a vertical look.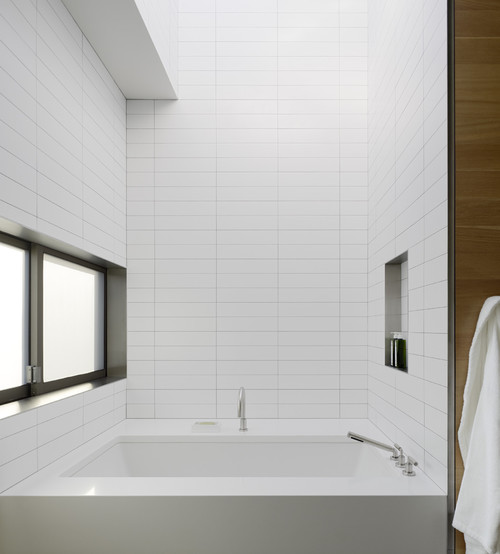 Photo by
-
Search bathroom pictures
Choosing a stacked arrangement gives you some freedom to experiment with tile size. Standard subway tiles are 3 inches by 6 inches, but you may notice that the tiles above don't hold to that 1:2 ratio. Even still, the look works.
You can also try this approach with bigger tiles. Try stacks of white Bianco Dolomite marble, perhaps cut to 4 inches by 12 inches.
Bianco Dolomite - View Details / Get Quote »
Finding the Best Tiles for Modern Homes
Tile can be a star player in your modern home design. From colorful onyx rectangles to bold geometric mosaics, you may use tile throughout your decor.
This video can provide additional modern inspiration:
Of course, getting help from the pros can make all the difference in your quest for the best tiles for modern homes. When you
include Artsaics in your remodeling plans
, we'll help you design a unique tile arrangement that embraces the best of modern design and reflects your individual tastes.