Ranch construction is one of the most popular house styles in the country. You may already own a ranch home, or you may be planning to build one. Either way, beautiful tiles deserve a place in your design. Check out the best tiles for ranch-style homes, and start planning your next tile project!
What Is Ranch Style?
Ranch is a very common architecture style for American houses. This look developed in the southwest area of the US in the first half of the 20th century and then spread across the country.
Features of early ranch-style homes often included:
Single-story construction
Open-concept layouts
Minimal ornamentation
Fireplaces
Wood or stone elements
Large windows
Low roofs
Back patios
Over the years, builders have continued to use the basic ranch concept when designing new homes. In fact, there are now many variations on the original style. For example, a raised ranch expands the house's usable space by adding a finished basement under the main level.
The following video contains examples of modern ranch-style home layouts. Be sure to look for tile ideas as you watch!
Tips for Using Tile in Your Ranch-style Home
Whether you're remodeling your current ranch house or buying a new one, tile can be an essential part of the look. These five ideas will inspire your plans.
1. Tile Floors
Traditional ranch-style decorating relies heavily on natural materials. When this style first developed, tile and wood floors were typically favored over carpeting. That makes tile, especially ceramic tile, a great choice if you want your home's flooring to have an authentic ranch feel.
Of course, you don't need to limit yourself to ceramic as the only choice. Natural stone tiles can be used to produce similar designs while also giving your decor a more upscale feel.
2. Unified Looks
Since ranch homes typically use open floor plans, one room flows into the next. Consistent flooring throughout those areas will contribute to the seamless look. Consider neutral tiles that will complement the style of furniture and the decor scheme used in each area. White, gray or beige could provide the right foundation for your decorating plans.
Because open floor plans offer a spacious feel, large-format tiles could look fantastic in your kitchen, dining and living areas. Small tiles across a big space can create visual clutter. Oversized tiles, on the other hand, can make your room seem even more spacious. For a large area, try for tiles that are at least 20 inches wide.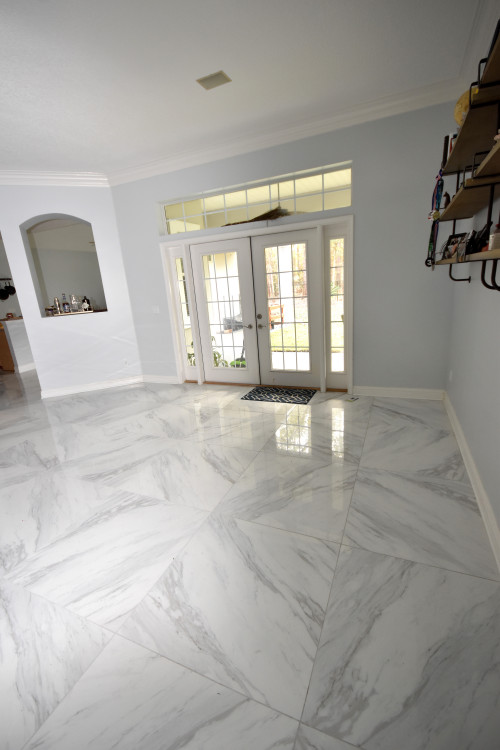 Photo by Pro-Tile & Marble
-
Discover family room design ideas
3. Easy-clean Entryway
Ranch-style homes often provide easy access to the outdoors. An attached garage is commonly located off of the living room or kitchen so that you enter from the garage right into the heart of the home. Plus, sliding-glass doors that lead to the backyard are a common touch.
To keep messes to a minimum, you'll want easy-to-clean flooring near these entry areas. Smooth tile could be an excellent choice. Daily sweeping and occasional mopping can keep these high-traffic areas in top condition.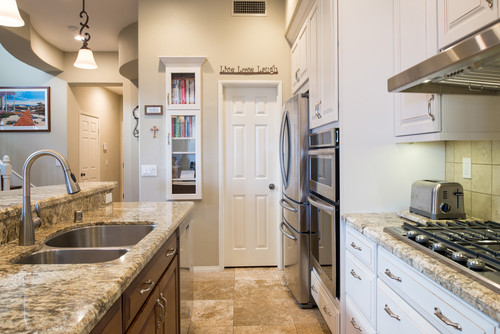 Photo by Remodel Works Bath & Kitchen
-
Search kitchen pictures
4. Fireplace Tile
Fireplaces were common elements in the original ranch-style homes. Your house may have a fireplace, too. If so, it could be the perfect spot to showcase a fire-resistant tile material, such as marble.
Typically, early ranch fireplaces featured brick or stone surrounds. If you want to leave the original surround in place, you could lay new tile just on the hearth.
An alternative is to redo the surround. You could remove the original brick and replace it with natural stone tile for an all-new look.
For tile fireplace inspiration, give this video a watch.
5. Curved Patterns
Ranch-style homes are known for their boxy shapes and straight-line designs. While there's nothing wrong with that, it's not a bad idea to throw in some circular shapes here and there to break things up. Consider using tiles with curved patterns in small areas throughout your home.
A kitchen backsplash could be a great spot to incorporate this idea. In the image below, the tiles above the stove use curved lines to create a pleasing geometric pattern.
Although they have straight edges, small hexagons can invoke a similar feel. Here, check out how the hexagonal shower tiles provide an appealing contrast to the square angles of the nearby glass and half wall.
The best tiles for ranch-style homes often include large-format slabs, neutral color schemes and easy-clean finishes. Of course, the best tiles for your home will depend on your preferences and the look you're trying to create.
For help in choosing the perfect ranch tiles, give Artsaics a call. Our tile artisans will work with you to pick the materials, colors and designs that will best fit your project.