Why settle for boring or outdated staircases? Your steps should showcase the beauty and elegance of your home. Choosing tile for your stairs is the best way to achieve that look.
In addition to style, durability and safety are the top concerns when it comes to selecting the best tiles for staircases. With the right tiles, you can craft a timeless staircase design that's both reliable and beautiful.
Durable Materials
Your staircases will get used over and over again every day. They need to be constructed of a sturdy material that can stand up to repeated use.
Natural stone is an excellent choice for dependable tiles. Consider how many examples of classical architecture there are with beautiful marble staircases. Some have them have held up for centuries.
You can bring this same sort of longevity into your home with natural stone tiles. In addition to marble, other materials to consider include limestone, travertine, slate and onyx.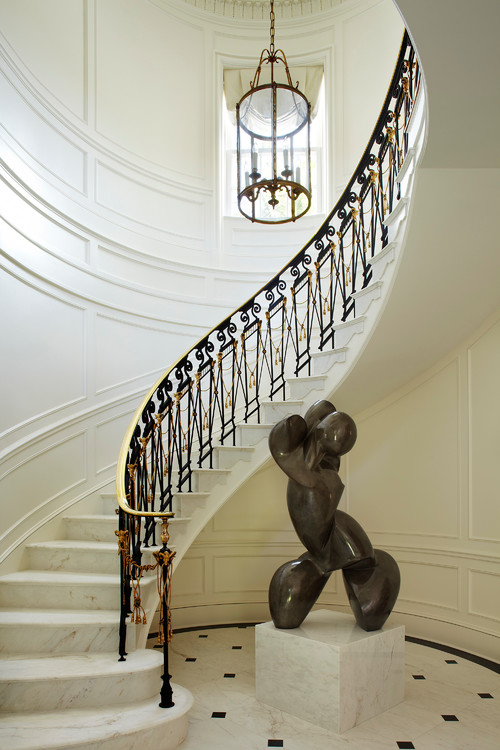 Photo by Katherine Shenaman Interiors
-
Look for staircase pictures
Safe Passage
Staircases can be one of the most hazardous places in the house. It's essential that you choose your flooring material carefully. The best tiles for staircases are the ones that are the least likely to cause a fall.
Tile professionals use a rating called dynamic coefficient of friction (DCOF) to determine how well a material resists slippage. The higher the rating, the safer it is for walking on.
Experts advise that inclines, including staircases, require a higher DCOF rating than any other spot in the house. Any tiles used for your steps should be rated 0.65 or higher. Your tile company can point you toward porcelain or stone tiles that satisfy this requirement.
You can learn how DCOF is measured in the following video:
Tile Nosing
Take a good look at a staircase, and you may notice that there's a small overhang where the treads (the flat pieces) meet the risers (the vertical sections). That's called the nosing.
It can extend the space that's available for your foot to land on and improve your traction. Nosing also protects the main part of each step from damage.
Staircase nosing is often made of metal or vinyl strips. They're functional but not particularly attractive. Tile nosing is a much more luxurious option.
With natural stone stairs, the nosing can be built right into each tread. You can see an example of rounded bullnosing on a stone step in the following video:
If you need extra traction, you could ask your tile professional to carve grooves or other designs near the edge of each tread.
Your treads may not be made from single pieces of stone. For stairs that are decorated with smaller tiles, you could ask your tile artisan to cut custom nosing pieces that fit along the outside edge of each tread.
Trim that matches the rest of the steps will create a unified look. If the nosing is done in a contrasting color or pattern, it can add visual interest to your staircase design.
Solid Colors
Safety is a top issue to consider when remodeling your stairs. If anyone in your home has stability issues, choosing the safest materials is even more critical. One of the most slip-resistant stair coverings is carpet.
Of course, the thought of installing carpet may fly in the face of your plans for a beautiful tiled staircase. The two ideas might be able to work together, though.
Consider laying a carpet runner down the middle of the staircase. It will provide the traction that you or your family members need. Your beautiful tiles will still show on either side of the runner.
If you choose this approach, consider tiles in a solid color. They'll serve as a complementary backdrop for whatever runner you select. You can create a dramatic look by using a light carpet against rich Belgian Black marble steps or switch it around with a dark runner on Bianco Dolomite stairs.
Belgin Black - View Details / Get Quote »
Bianco Dolomite - View Details / Get Quote »
hPatterned Risers
Of course, if you don't plan to cover your steps, you might want to turn them into a work of art with patterned tiles on the risers. Choosing bold or colorful tiles can turn this into a particularly spectacular look. You could use a different pattern on each riser or opt for a uniform style throughout the design.
Chez - View Details / Get Quote »
Decan - View Details / Get Quote »
Patterned tile risers will allow you to mix and match materials if you choose. For example, you could pair them with tile treads or wooden ones.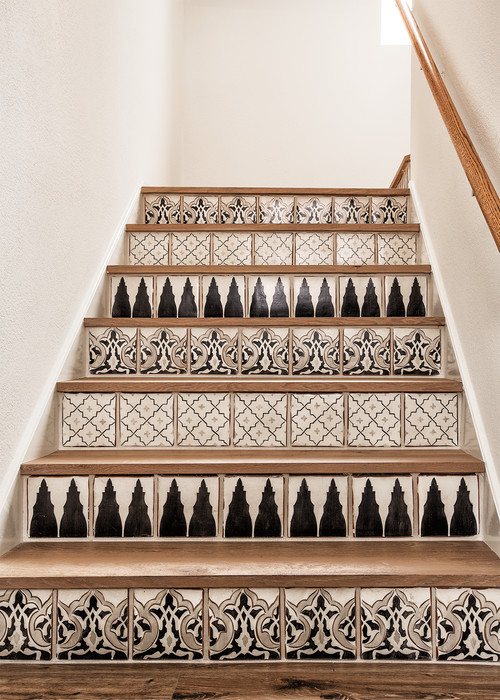 Photo by GINA FRAY DESIGN Interiors & Exteriors
-
Look for staircase design inspiration
Wood-look Stone
Polished wooden stairs are popular, but their finish can wear away over time. Plus, people and pets may scratch or chip the wood with frequent trips up and down the steps. Natural stone may be a more long-lasting alternative.
If you want the durability of stone but the warm appearance of wood, opt for tiles in shades of brown, preferably with veining that runs the length of the stone.
Good options may include Mocha Brown onyx, Noce travertine and Savoy Dark marble.
Mocha Brown - View Details / Get Quote »
Noce - View Details / Get Quote »
Savoy Dark - View Details / Get Quote »
Selecting the right tiles for your stairs is critical. Otherwise, your steps could become a safety hazard. For the best insight on what tiles to use for your staircase, consult professional tile installers.
For your next staircase project, choose Artsaics. After helping you select the best tiles, our artisans will carefully install them for a safe, durable and elegant staircase that you'll treasure for many years.