Natural stone tiles can elevate any home decor. Etched tiles can take the look even further.
Etching a tile involves removing a thin layer of the surface in order to create a design. It's a traditional art form that's still relevant in the modern era.
In fact, modern techniques are contributing to tile artisans' ability to create impressive etchings. It used to be that etchings would be done with acidic chemicals or sharp tools. These days, artisans use precise lasers to make etched stone tiles.
If you're intrigued by this concept, check out how to use etched tiles in your home project.
1. Use multiple designs.
The patterns on etched stone tiles are often subtle. The etching can be done in a light gray shade that gently stands out from the background color of a neutral tile. Because the color contrast is low-key, you can use a few different patterns without inducing a sense of overwhelm.
If you decide to take this approach, choose patterns from the same design family. The Bordo Antico collection includes a variety of options that you could consider. The kitchen pictured here uses two of them — one for the backsplash and another for the border that runs the length of the counter.
Bordo Antico Etched Stone Kitchen - View Details / Get Quote »
2. Create a patchwork design.
Grouping multiple etched designs into one area is an interesting way to dress up your home. Think of it like a patchwork quilt in which each square features a different pattern. Each element stands on its own, but together, they create something even more beautiful.
The Bessi design from the Bordo Antico collection is a pre-designed way to achieve this look. The 12 beautiful patterns are divided and framed with textured border tiles and delicate rosettes. Bessi would make a stunning kitchen backsplash or serve well as a focal point above the bathtub.
3. Display what you love.
Your home should be a reflection of you. If you have passions, consider showing them off in your decor. Custom tiles could be a great way to go about this. Whether you're into cooking or gardening, your tile company may be able to use laser etching to design a set of tiles that are unique to your home.
Check out the design below. When you see the mountain border and the animal tiles, you can tell right away that this home belongs to someone who loves the outdoors. These etchings tie right into the wilderness decor on the counter to create a unified theme for the room.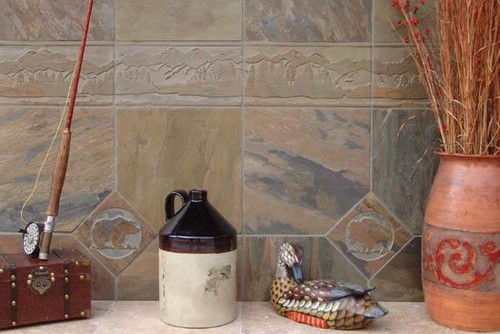 4. Make it bold.
While the Bordo Antico collection features on fairly neutral browns and grays, that's not the only option for etched stone tiles. The Barroque collection puts a different spin on things. Its tiles are largely black and white. The bold color combination is sure to catch people's eyes.
Consider filling an entire wall with a bold Barroque pattern. A stunning etched tile wall would certainly dress up a plain room. You can see how, in the bathroom below, the elaborate ceiling-height backsplash stands out against the plain counter and subtle floor tiles.
5. Create a multi-tile mosaic.
You might have a design that spans multiple tiles in mind. Etching is a creative way to carry a design across a span of tiles. The pieces can be fit together to create one complete work of art.
The home shown here uses this etching idea to create an attractive backsplash behind the range. Not only does the dark etching stand out against the light-colored tiles, but it also complements the cabinetry and the border of small tile squares. To polish off the look, the etched design is framed by two rows of dimensional tiles.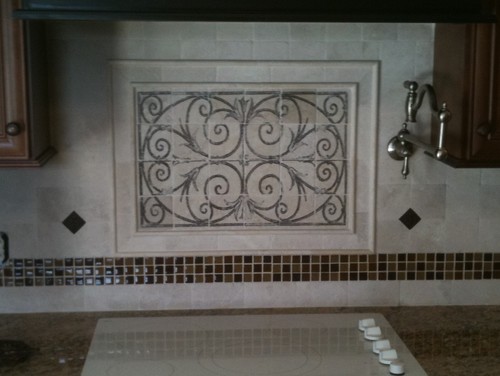 Photo by Millwork Supply
-
More kitchen photos
6. Add pops of interest.
When you chose etched stone tiles as part of your decor, they don't have to be the only element you include, of course. Rather, etched tiles can serve as one piece of your overall design plan.
Using just a few etched squares interspersed among solid tiles could add an element of visual interest to your room. The Chateau design from the Bordo Antico collection can give you an idea of how that would look. Guests to your home might enjoy keeping their eyes open for the occasional etched design hidden on your walls.
7. Incorporate florals.
If floral designs are right up your alley, then you might appreciate the artistry available with etched tiles. The laser etching process allows artisans to create intricate, delicate designs. It's an ideal medium for producing detailed floral images.
The Barroque collection features several different floral options. Below, you'll see three of them. Moor features a rather realistic interpretation while Tasmin gives the impression of a pen-and-ink sketch. Lond's floral motif calls to mind a rich tapestry embroidered with leaves and flowers.
 - 
Etched Stone Tiles for Your Home
Any house with natural stone tiles could benefit from the addition of etched elements. Whether you're doing a remodel or a new build, consider adding some etched stone tiles to your interior design. The etchings will be a unique, eye-catching way to develop your design scheme.
Laser etching is the top option for precise design work, but the process calls for an experienced artisan with state-of-the-art equipment. Artsaics can offer that. When you choose Artsaics for your tile product, you can count on unmatched mosaic and etching expertise.
To learn more, schedule your Artsaics consultation today.