What's your design style? Are you a traditionalist, or do you like to put a modern spin on things? The traditional and modern decorating styles are quite different, so it's best to identify your preference before deciding which tiles to buy.
Take a look at this guide to modern vs traditional tiles to help you figure out which will work in your home.
Comparing Modern vs Traditional Characteristics
The best way to understand the differences between traditional and modern decorating is to compare the features of these two styles.
Color
In traditionally decorated homes, the colors work together to create a warm, inviting feel. Neutrals are a top pick. You're likely to find a range of earthy shades, such as browns, grays and creams.
That's not to say that other colors don't play a role. Traditional houses may also feature rich colors like dark reds and deep greens in places throughout the decor.
Eathane - View Details / Get Quote »
When it comes to the top color in modern homes, there's no doubt about it. White is the darling of modern decor. This crisp, bright color forms an ideal background for this minimalist design style.
Bright, bold pops of color may join in, but they don't usually get to take the starring role away from white. From the counters to the cabinets to the backsplashes, you're sure to find white everywhere.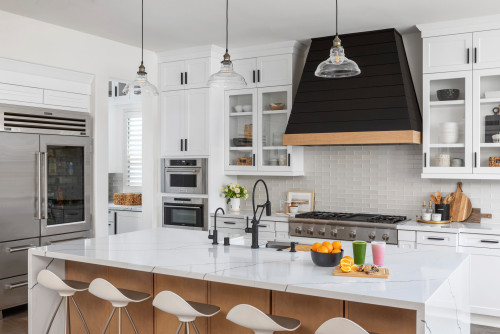 Photo by Sea Pointe Design & Remodel
-
Look for kitchen pictures
Arrangement
Symmetry is a key feature of the traditional decorating style. If there's an element on one side of the room, it's likely to be balanced with a matching element on the other side.
You can see this in the tile designs used in traditional homes. Orderly layouts create a sense of harmony.
Modern design is often quite the opposite. Not only is symmetry not a critical element, but asymmetry may be an intentional characteristic of the design.
You might be able to create that feel with an irregular arrangement of tiles or a focal-point mosaic that's somewhat off-center from the middle of your room.
Patterns
When it comes to modern vs traditional tiles, there's a big difference in the patterns used. Traditional interior decorating is naturally ornate. The details add depth and richness to a room. The idea may be to create a look that draws you in for a closer look; traditional homes are often considered to have an inviting feel.
This means that you can use a great deal of intricate patterning in the tiles of your modern home. Popular motifs include florals and paisleys. You may also find scrollwork, fleurs-de-lis and more.
Modern decorating is quite the opposite. The goal is to keep rooms as clean-looking as possible. This is definitely a minimalist approach, and you might even find it sparse.
Because a clean look is so important to this type of design, you're not going to find nearly as many detailed patterns used. In fact, modern rooms are an ideal place to lay enormous large-format tiles. That way, grout lines won't interrupt the sleek look of your walls and floors any more than necessary.
Material
People have been using natural stone in tile mosaics for thousands of years, so it only makes sense that stone tiles would be a perfect fit for traditional designs. With marble, travertine and other natural stones, you can create an elegant ambiance.
Plus, such stones often come in shades that are just right for the warm, neutral color palettes that work well in traditional homes. You'll find an assortment of tans, beiges and grays available for your design purposes.
https://artsaics.com/product/baquette-hand-painted-fruit-mural/
Natural stone tiles work well in any home, they can be a great fit for modern decor too. Also, you may find more glazed ceramic tiles used in this type of decorating.
Another thing to remember is that modern design often incorporates a mix of materials. You could consider some metal or glass tiles — or include those elements elsewhere in the room.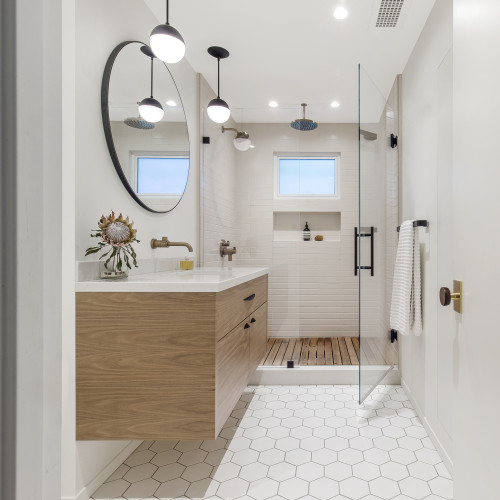 Photo by Craig O'Connell Architecture
-
Browse bathroom ideas
Considering Your Current Elements
Your personal tastes should play a large role in whether you go for a traditional or modern tile look. That's not the only thing to consider though. Unless you're building a home from the ground up or undertaking a complete renovation, you should also take into account the elements that currently make up your space.
For starters, think about the wood trim or accents in your room. Traditional design usually features warm, rich wood tones — often in dark shades. Modern design, on the other hand, typically uses lighter wood tones.
When you're evaluating the trim and accents, take into account more than just the color of the wood. Think also about what sort of ornamentation is used. Elaborate crown molding fits well into traditional designs, but clean lines suggest a modern scheme.
Your textiles may influence the type of tiles you settle on too. Traditional textiles are often heavy and richly ornamented. Modern style aims for a lighter feel and often features natural materials, such as linen.
Finding Your Personal Style
Does your aesthetic fall somewhere in the middle of these two styles? If so, then perhaps a transitional style would be best for your home. This video will give you a feel for transitional design:
A tile professional can help you settle on the right look for you: traditional, modern or transitional.
Together with a designer
, you can evaluate modern vs traditional tiles to decide which type is best for you. Turn to the pros at Artsaics to find the look that's best for your home.