You know that mosaic tiles can elevate any indoor space, but you may be wondering about the practicality of installing them outside. If you love mosaics, you'll be glad to know that it's possible to lay tiles in your outdoor areas.
Picking the right mosaic tiles for outdoor spaces will help to ensure an attractive, durable installation that holds up well throughout all your backyard gatherings.
Considerations When Laying Tiles Outdoors
The tiles used for outdoor projects require some features that aren't as critical for indoor applications.
Freezing: In places with winter weather, you'll need materials that can withstand the pressures of freezing and thawing time and again.
Sun exposure: Sunlight can fade some types of tiles, so it's smart to look for a colorfast variety.
Water resistance: While some tile varieties are more naturally water-resistant than others, sealing can help protect against rain and snow as well.
Traction: Wet tiles have the potential to become slippery, especially if they're highly polished. Rougher materials offer greater traction.
Cleaning: Some types of tile stain more easily when exposed to foot traffic and the elements than others do.
Check out this video for mosaic tile ideas:
Types of Mosaic Tiles for Outdoor Spaces
One or more of the following stone varieties could work for your outdoor mosaic project.
Slate
When it comes to mosaic tiles for outdoor spaces, slate provides excellent durability. It can even withstand the changes that come with freezing and thawing, so it works in places where the temperature drops quite low every year.
Additionally, slate does a good job of resisting water. You can install an outdoor slate mosaic in parts of the country with regular rain and snow without worrying about what all that precipitation is doing to your patio.
Many slate tiles retain their natural texture, which provides traction underfoot.
As you can see below, slate is available in a range of colors, so you'll have options for an outdoor slate mosaic.
Travertine
A type of limestone, travertine is more affordable than some other types of natural stone tiles. This material works for outdoor applications in some environments. It doesn't have the freeze-thaw durability of slate, so you'll want to use it only in more temperate climates.
The water resistance of travertine varies based on the variety you choose. Tile experts usually recommend looking for tiles that were quarried in Italy or Turkey if you're planning to use them in wet areas.
Should you choose to install travertine in your outdoor spaces, pencil in a yearly deep cleaning for the surface.
Marble
While it's not the first material that many people think of for outdoor use, marble can be used outside! Many types of marble hold up well to the sun's rays, so you won't have to worry about extreme fading.
As with travertine, a yearly cleaning is recommended for outdoor marble tiles. You'll also need to reseal the surface regularly.
Marble and acids don't mix. So while you might choose marble tiles for your patio floor, it's probably not ideal for the countertop of your backyard bar. Splashing lemon juice or other acidic ingredients on the counter could damage the marble.

Soapstone
Although it's not a very common tile material, soapstone can be an excellent choice for outdoor tile projects. It offers impressive durability, so you can use it in parts of the country that get quite hot or cold. In fact, you can even place it around a firepit!
Soapstone has good water resistance too, so some people use it in their pool areas.
Another advantage of soapstone is that it can handle acidic materials better than some other types of natural stone. That can make it a good option for outdoor bar areas.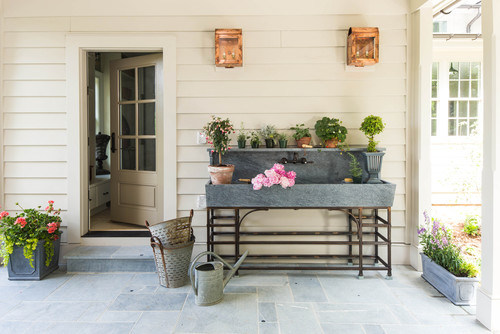 Photo by European Stone Concepts - Browse porch ideas
Granite
You can use granite in many different temperature regions, but water can be a concern for this material. Since it's not very water-resistant, annual sealing of the surface is a must. Also, you'll want to select your granite variety carefully since many become slippery when they get wet.
While sealing is essential, other than that, granite is a pretty low-maintenance choice compared to some other types of natural stone tiles.
As shown below, many people choose granite for outdoor countertops, but you can incorporate it into tile mosaics too.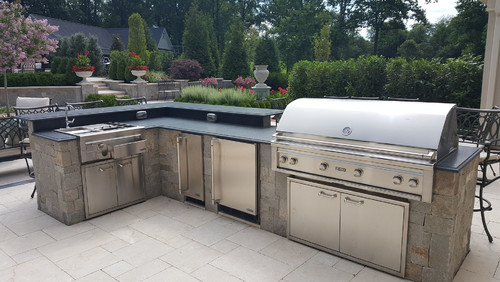 Photo by CAPITOL HARDSCAPES - Search patio design ideas
Limestone
If you live in an area that's warm and doesn't get a lot of rainfall, you could also look into limestone tiles. The material can scratch easily, so you may want to save it for mosaic areas that won't see as much foot traffic. Annual cleaning and sealing are important for limestone.
An advantage of limestone is that it's often one of the more affordable natural stone options.
Choosing Your Outdoor Tiles
The best mosaic tiles for your outdoor area will depend on the type of project you're doing, what sort of maintenance you're up for, and where you live. As you're considering mosaic tiles for outdoor spaces, be sure to ask a professional for expert input.
At Artsaics, our mosaic artisans understand that you want a space that's both beautiful and functional. Contact us today for a consultation. We'll help you select the best natural stones for your mosaic project.