If you've seen painted stone tiles online or in design magazines, then you know that they're gorgeous. You may be unsure, though, how to incorporate them into your interior decorating plans.
Don't let uncertainty hold you back from what could be an incredible addition to your home. Instead, find inspiration by browsing these six design ideas for painted stone tiles.
1. Make Your Backsplash a Thing of Beauty
A backsplash is a panel that covers the wall behind a sink or a range. The idea is to protect the wall from water damage or cooking stains. For that reason, a backsplash is usually made of water-resistant material that easily wipes clean, such as tile.
A backsplash serves a functional purpose. Practicality doesn't have to trump beauty though. Your backsplash can be both dependable and attractive.
Consider adorning your backsplash with painted stone tiles. A hand-painted mural is a work of art, and you'll get to look at it every time you prepare a meal, scrub your hands or wash the dishes.
Not only would painted tiles be lovely to look at, but they'd also give your home a unique style. You might be the only person in your neighborhood with a custom work of tile art in your kitchen or bathroom.
The following image demonstrates how perfectly a painted mural can work for a backsplash design. Fruit is a fitting theme for a kitchen mural. Other common images for hand-painted tiles include country landscapes, floral motifs and animal scenes.
2. Border a Room
Perhaps you'd rather not confine the beauty of hand-painted tiles to just one area of a room. In that case, you might want to install a painted tile border instead. That would allow you to enjoy the design no matter which way you're facing.
Wallpaper borders are trending among designers right now. With borders, you can add visual interest to simple wall designs or layer complementary patterns to create texture. Either way, tile borders could be an elegant way to elevate this popular design concept.
A strip of border tiles could be a great place to showcase plant motifs, such as the one shown below. Swirling vines and curling leaves work well for such a narrow canvas. Blossoms and berries can add pops of color.
Ena Border Botticino - View Details / Get Quote »
3. Add a Touch of Decor
Painted mosaic designs come in all sizes. While many are large and cover several feet of space, that doesn't have to be your approach to including custom paintings in your home. Instead, you can use small paintings to provide just a touch of visual interest.
Perhaps you subscribe to the minimalist design concept of "less is more." In that case, a wide pastoral landscape or a large basket of fruit might not appeal to your tastes. Thankfully, paintings can be sized to your liking.
Take the kitchen backsplash below, for instance. Rather than filling the entire space with designs, the paintings are limited to the four corners of the stone tile design. It's an understated yet attractive look that could complement a variety of rooms.
Ornamental Hand Painted - View Details / Get Quote »
4. Create a Statement Wall
If minimalism isn't your thing, why not go big with your painted stone tiles? A large mural is sure to impress.
When it comes to tile murals, to make the artwork bigger, all you have to do is add more tiles. That provides a lot of flexibility in what size your design can be. You may be limited only by the measurements of your wall.
The following kitchen provides just a small taste of how a statement mural could look. This wide backsplash extends beyond the sides of the range. As it is, this mural is the most eye-catching thing in the room, but you could choose to go even bigger with your design if your space allows.
Pietre Arte Hand Painted Scene - View Details / Get Quote »
5. Dress Up a Small Area
Since there's flexibility available for tile mural sizes, you can place them in small or unusually shaped areas. By adding painted stone tiles, you can turn what might otherwise be wasted space into one of the most stunning parts of your room.
What spots might be good for this approach? Consider installing a mural at the end of a narrow hallway, in an alcove or around your fireplace. Below, you can see how a homeowner used this idea to dress up a recessed shelf.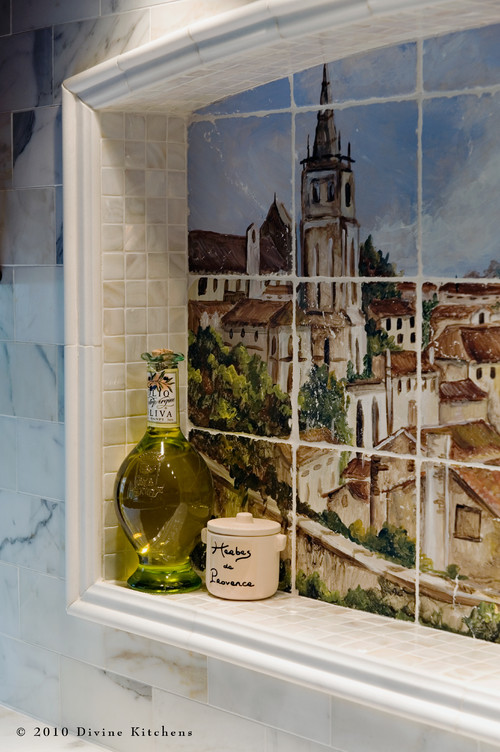 Photo by Divine Design+Build
-
Discover kitchen design ideas
6. Enhance the Theme of Your Space
Your home decor doesn't have to be quite the same as anyone else's interior design. The elements you choose can reflect your personality and interests. In fact, the more of yourself you put into your design, the more at home you may feel in your space.
Painted stone tile murals can be an incredible way to showcase the theme you've chosen for a room. If you want to emphasize the joy of breaking bread with loved ones, consider a fruit-and-grain mural for your kitchen. If your family delights in the great outdoors, consider bringing nature into your home with a design that features stately trees or majestic animals.
Here, the sailboat mural complements the room's aqua tiles to give this bathroom a waterfront theme.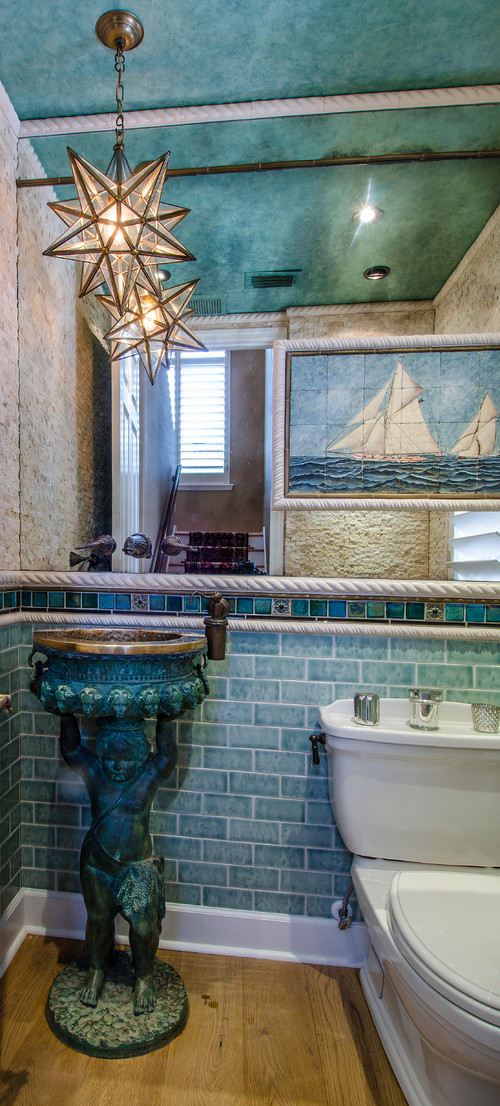 Photo by Barbara Krai Interior Design
-
Search powder room design ideas
For another idea, see this garden-themed mural:
Artsaics' Hand-painted Tiles
If you're inspired to include painted stone tiles in your home decor project, you'll want to enlist experienced tile artisans for the job. No matter the size of your space, Artsaics' mosaic designers will bring your vision to life. Contact us to discuss including hand-painted tiles in your design.