You have your heart set on tile for your next home renovation. The problem is, you don't know what sort of tile would be best.
Before beginning this project, you hadn't realized just how many varieties there were. Now, you're surrounded by choices and unsure which one to use.
To help you choose the right materials for your home, check out this overview of stone tile vs ceramic tile.
Stone vs Ceramic: What's the Difference?
Stone tile is a natural product. It's quarried from the earth and shaped into tiles. Examples of natural stones used for tiles include marble, limestone, slate and travertine. Stone tiles have been adding beauty to buildings and artwork since ancient times.
Ceramic is a manmade type of tile. It is formed from a clay mixture that is shaped and then fired in a kiln at over 1,000 degrees Fahrenheit. Ceramic tiles are available in glazed and unglazed versions. As with natural stone tiles, people have been making ceramic tiles in some fashion for many millennia.
Reasons to Select Stone Tile
Natural stone is borne from thousands of years of geological processes. Long before it ever arrives in your home, this material has survived extreme pressure and wild weather. Its rugged nature makes it a durable addition to any home.
Many types can withstand frequent foot traffic. Stone tiles also do well in areas that are subject to temperature changes, such as your entryway or back patio. The precise durability varies depending on the type of stone you select, but many varieties beat out ceramic in their ability to resist chipping and cracking.
Noce Basketweave Pattern - View Details / Get Quote »
With stone tiles, you're limited to the color options provided by nature, but you might be surprised at the vast rainbow of hues that are available. While browns, grays and creams are common, you'll also find stones like marble and onyx in shades of green, blue, red and more.
Multi Color Green - View Details / Get Quote »
Blue Bahia - View Details / Get Quote »
Multi Color Red - View Details / Get Quote »
Since natural stone doesn't originate in a factory, each batch has its own characteristics. No two sets of stone tiles are exactly the same, and that can lend your project a one-of-a-kind style. The uniqueness of natural stone may help boost your home's value.
Stone tiles can be porous, but sealing increases their ability to withstand moisture penetration. As a result, marble and other natural stones are often used for bathroom walls and floors.
Univo Bloss Japanese Cherry Blossom Mosaic - View Details / Get Quote »
Even still, you may want to think twice about using stone tile if:
You need to keep your tile costs as low as possible.

You'd prefer to install the tile yourself.

It might be necessary to find an exact color match years down the road.

Simple maintenance is your top priority.
Stone tile isn't especially hard to maintain, but it may need to be resealed every few years, and you need to be careful about what types of cleaners you use on it.
Reasons to Select Ceramic Tile
Because ceramic tiles are mass-produced instead of being hewn from natural sources, it can be less expensive to manufacture them. Those savings may get passed on to you, which means that ceramic tiles typically start at lower prices than stone ones.
Ceramic tiles receive their color during the production process. Unglazed tiles are only available in natural clay shades, but glazed tiles can be pretty much any color imaginable. If you have a unique color in mind for your project, there might be a glazed ceramic tile to match. Some patterned tiles are available as well.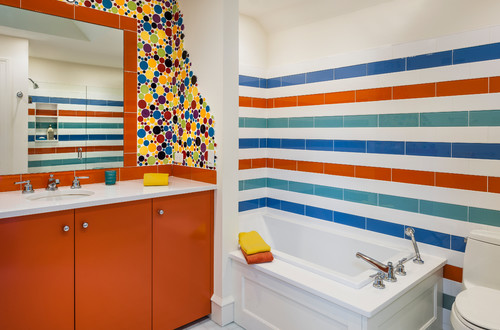 Photo by Eberlein Design Consultants Ltd.
-
Browse bathroom photos
The exact shade is typically consistent from one batch to the next, so you can count on getting a good match if you have to go back and buy another box.
Unglazed ceramic tiles aren't suitable for use in damp areas, but glazed ceramic tiles do a pretty good job of keeping out moisture. They can typically be placed in bathrooms and laundry areas.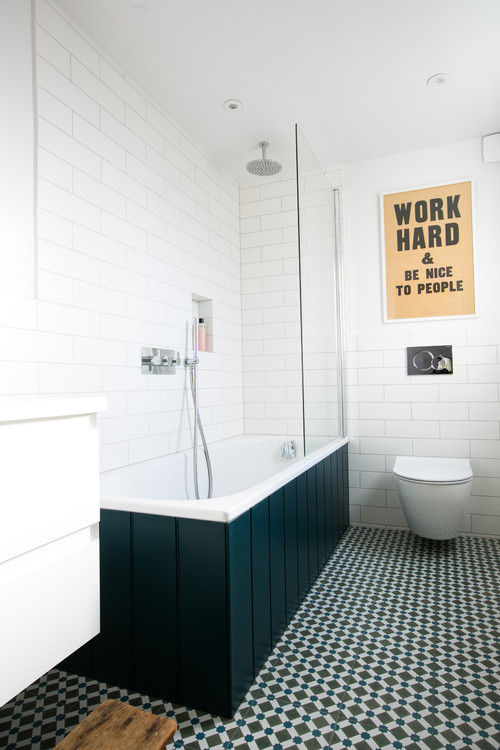 Photo by Otta Design
-
More bathroom photos
The layer of protection provided by the glaze also means that you can use a damp mop and your favorite floor cleaner to keep these tiles looking their best. Grout sealing and replacement may sometimes be necessary, but overall, ceramic tile maintenance is pretty simple.
It's almost always best to leave tile installation to the pros. However, if you're set on doing it yourself, ceramic may be the material to choose. It can be easier to cut and arrange than some other tile materials.
Despite these benefits, ceramic tile might not be the right choice if:
Durability is your top priority.

You're hoping that your tile project will boost your home's value.

The tiles will be placed outdoors or in other areas that get particularly hot or cold.

You want tiles that are truly one of a kind.
It's worth noting that a ceramic tile's color or pattern is found only in the glaze layer. Cracks and chips in a ceramic tile expose the clay color underneath the glaze, and that can make damage quite noticeable.
Stone Tile vs Ceramic Tile for Your Home
Ceramic tile is often the more affordable choice for a renovation project, but stone tile has a natural elegance that ceramic can't rival. If there's room in your budget for stone tile, you'll find it's an investment that adds beauty and value to your home for years to come.
To help you further understand the differences between stone tile vs ceramic tile, check out this video:
If you could use more tile guidance,
reach out to us at Artsaics
. We can point you toward the best option or create one-of-a-kind tile artwork for your home.