Browse for new tiles, and you'll quickly discover that there are countless tile shapes and patterns. It's enough to make your head spin.
To help you sort through the options, we've compiled this guide, complete with pictures. It will introduce you to some of the most popular tile shapes and patterns.
Square
The basic square is one of the most common tile shapes. You'll see it in anything from tiny half-inch boxes to massive large-format tiles that measure 12 inches or more.
Checkerboard
Stacked tiles are arranged in a straight-line pattern. One placed directly under — or beside — the next. The edges of the tiles form straight lines down or across the surface.
Checkerboard patterns stick with this basic straight-line arrangement, but they do it with alternating colors. Black and white, as shown below, is a common choice, but you can create a checkerboard with any combination you choose.
Mosaic
Tiny squares can be used for creating intricate mosaics. With the right layout, square tiles can form countless shapes and designs, such as the fish artwork shown here.
Tapeti Clair Fish Mosaic - View Details / Get Quote »
Rectangle
Another fundamental tile shape is the rectangle. While just as basic as reliable old squares, rectangles offer more arrangement options. Since rectangles have both a short side and a long side, turning them one way or another makes a big difference in the look of your room.
Running Bond
As with squares, you can arrange rectangles in a straight-line pattern, but running bond designs are often more common. In running bond, tiles are offset from those in the preceding row. Sometimes, this style is known as running brick because it's the arrangement typically used for brick walls.
Usually, the end of one tile lines up with the middle of the one under it. Sometimes, designers go for a different look by placing the ends at the one-third or one-quarter mark instead.
The popular subway tile look typically incorporates a running bond design. Traditionally, rectangular tiles that are twice as long as they are wide are considered subway tiles.
Herringbone
Another look you can create with rectangles is a herringbone pattern. The tiles are angled up and down to create zigzag patterns.
Blanch Sabba Herringbone Mosaic Pattern - View Details / Get Quote »
Chevron is a similar look, but it doesn't use straight rectangles. Rather, it requires parallelogram tiles, which are like rectangles with angled ends.
Basketweave
You can also place rectangle tiles in arrangements that convey a sense of rotation around a central axis. Basketweave, shown below, is one of the best options. For a basketweave pattern, you'll need both square and rectangle tiles. The rectangles are arranged in four different directions around the central squares. Overlapped ends give the impression of long strips weaving under and over one another.
Noce Basketweave Pattern - View Details / Get Quote »
Pinwheel is a similar style, but the tiles line up with one another so that each group of one square tile and four rectangles forms its own independent square. See an example here:
Strips
Some rectangle tiles are long and skinny. Such tiles are often called strips. They can be arranged end to end in horizontal or vertical patterns.
Soho Strips Mosaics - View Details / Get Quote »
For more inspiration on using rectangle-shaped tiles, take a look at this video:
Hexagon
A six-sided shape is called a hexagon. This is an extremely popular tile shape because hexagons fit together just right. You can lay them in endless lines that interlock perfectly with one another.
This shower wall is a great example. You can see how the small hexagons fill all the available space so that the whole wall is covered with the same shape.
Hexagons also work when each is surrounded by a contrasting border.
Picket
A flattened hexagon has a special name. It's known as a picket tile. Here, you can see picket tiles in two different sizes: one tiny and one huge.
Octagon
Less common than the hexagon is the octagon, which is an eight-sided shape. Unlike hexagons, octagons don't fit together quite as nicely. To ensure that all space is filled, they are usually coupled with square tiles.
Calacatta Octagon Bathroom Floor - View Details / Get Quote »
Circle
While many tiles have straight sides, not all do! Circles are another shape to consider in your tile designs.
Tiny circles, as seen below, are often known as penny tiles. They're often used as accents in bathrooms.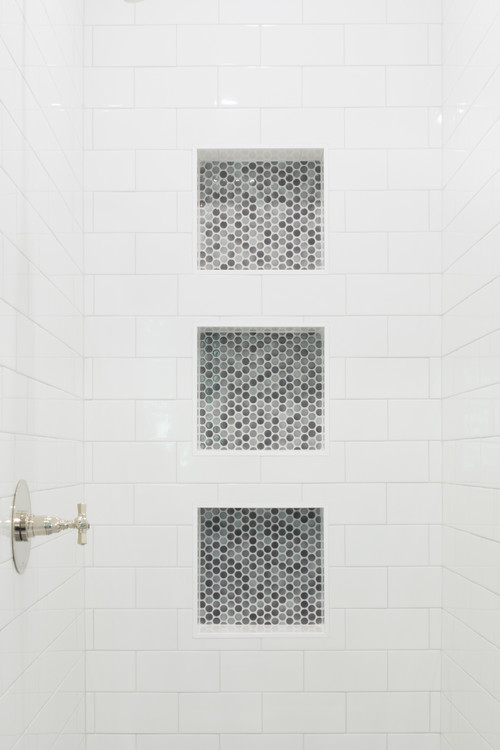 Photo by Distinctive Interiors
-
Search bathroom pictures
Water-jet cutting makes it possible to use larger circle tiles in your designs too.
Curv Anner Waterjet Mosaic - View Details / Get Quote »
Arabesque
For a distinctive look, check out arabesque tiles. Hailing from the Middle East, this style features pointed tips and rounded sides. The individual tiles fit together in an offset pattern.
Some people call these lanterns, but others claim that lantern tiles have smoother sides than arabesque ones.
Fish Scales
Often used in bathrooms, fish scales look just like their name suggest. They're a bit like triangles with one convex side and two concave sides. They are shaped to interlock together just right.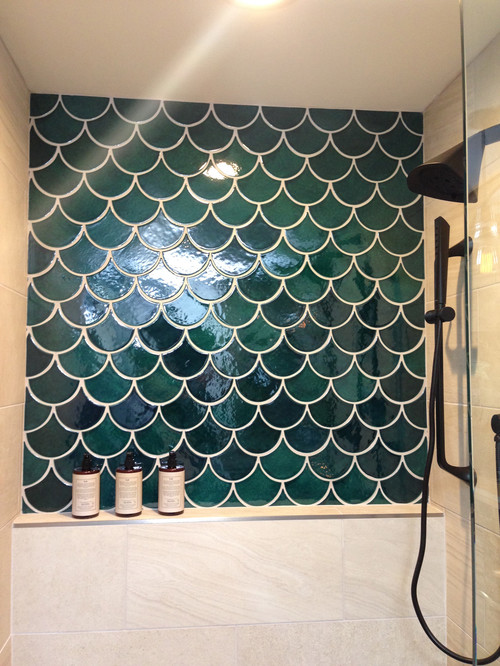 Photo by Mercury Mosaics and Tile
-
Browse bathroom photos
The Right Tile Shapes for Your Home
This overview of tile shapes and patterns only scratches the surface of what's available. For example, these two rooms use a variety of triangles, diamonds and trapezoids.
Univo Aroma Star Mosaic - View Details / Get Quote »
Plus, water jet technology allows tile artisans to cut a wide range of curved or freeform tiles that fit together into unique mosaic designs.
For your home's top tile designs, turn to the pros. We'll help you select the right shapes, patterns and colors for your decor.
Call Artsaics
to discuss your options today.