Your home is ready for a remodel, and you want your decor to feature a fresh, current look. Incorporating the latest in tile trends is one of the best ways to update your house with today's favorite styles.
Whether you have tile upgrades in mind for your bathroom, your kitchen or your living space, you can bring your home into the new year with these top tile trends 2021.
Hot Hexagons
The latest trend in tile shapes features hexagonal tiles. You'll find these six-sided shapes on both walls and floors.
Hexagons are versatile. They can be as small as penny tiles or span several inches. You might choose a bold shade or a soft neutral like the tiles in the above bathroom.
Water jet technology is ideal for creating tight hexagonal designs. With this cutting method, tile artisans can precisely form each of the angles for a geometric pattern that fits together just right.
Della - View Details / Get Quote »
Cotto - View Details / Get Quote »
Lush Green
After a year spent at home, we feel more strongly than ever the pull to make our homes into havens. Colors that remind us of nature are an ideal way to create the sense of calm and balance that's so critical these days.
For that reason, shades of green are a tile trend that's taking root in 2021. From deep pine to vibrant shamrock to muted moss, you're sure to find a variety of green that suits your decorating tastes.
Olive Green - View Details / Get Quote »
Verde Luna - View Details / Get Quote »
You can feature green marble as the sole shade in your tile design or balance it with a complementary color, such as this basketweave pattern in Ming green and white.
Ming Green - View Details / Get Quote »
Oh So Blue
If green's not your top color pick, give blue a try instead. Two shades of blue—Cerulean and French Blue—have made it into the Pantone picks for New York Fashion Week 2021. These colors would be a beautiful addition to your home decor. Cerulean, a sky-blue pastel with gray undertones, has a calming feel, and the deeper French Blue has a crisp freshness to it.
These gorgeous blues could be especially lovely in your kitchen. Pair them with white cabinets for a color scheme that's reminiscent of a sunny picnic or a cozy European bistro.
Reed - View Details / Get Quote »
Blue Bahia - View Details / Get Quote »
Matte Finish
Highly polished tiles have their place, but 2021 is shining a spotlight on matte varieties an an alternative. Matte finishes often lend a soft look to your tiled room. They create the sort of space in which you can relax and unwind.
Another advantage of matte tiles is that they hide water spots. That can make them a good choice for showers and kitchen backsplashes.
Limestone Bathroom - View Details / Get Quote »
Natural stone tiles often feature matte finishes. Stones to consider include limestone and travertine. Your tile professional can help you find matte options that match your color scheme.
Champagne Pistachio - View Details / Get Quote »
Ivory Dark - View Details / Get Quote »
Matte tiles are especially beautiful in rooms that offer plenty of natural light. These tiles aren't very reflective, so they won't scatter light throughout the room as glossy ones would. In a dim room, you might run the risk of them appearing dull. Fortunately, a bright room lends matte tiles an airy glow that's right on par with the 2021 look you're trying to achieve.
Can't-miss Sparkle and Shine
In addition to matte finishes, we're also seeing just the opposite this year: metal tiles and other elements that shine. While some people are doing whole walls in metallic tile, small embellishments are another way to incorporate this trend.
For a unique twist on this 2021 style, accent your tile mosaic with glass or mother of pearl pieces. These materials add brilliant shine and sparkle to natural stone mosaics. You can use these tile designs to cover an entire floor or wall, or you can save the look for one small area of the room as an eye-catching accent piece.
Silo - View Details / Get Quote »
Desmond - View Details / Get Quote »
Large-format Backsplashes
Big tiles are having a moment in 2021, and one surprising spot where you'll find them is the kitchen backsplash. Mosaics of tiny shapes or rectangular subway patterns are being replaced with large tiles and even bigger patterns.
Akard - View Details / Get Quote »
If you decide to go with this look for your kitchen upgrade, think about extending your backsplash tile well above the sink area. Continue the design at least halfway up the wall or let it stretch all the way to the ceiling.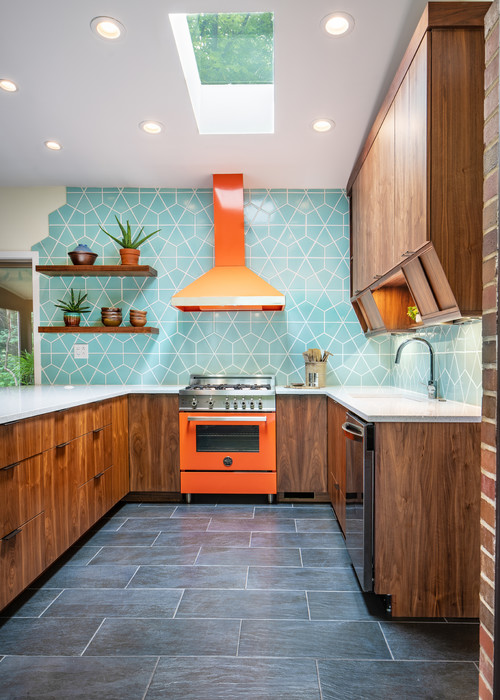 Photo by Kelly Ann Photography
-
More kitchen photos
Exotic North Africa
To cultivate a well-traveled feel in your home, bring in styles that reflect the culture and beauty of North Africa. Elaborate patterns and rich color schemes may lend the feel of strolling through a vibrant bazaar or sipping strong coffee at an outdoor cafe. Although this is a hot 2021 trend, its centuries-old origins ensure that this classic look will remain relevant for years to come.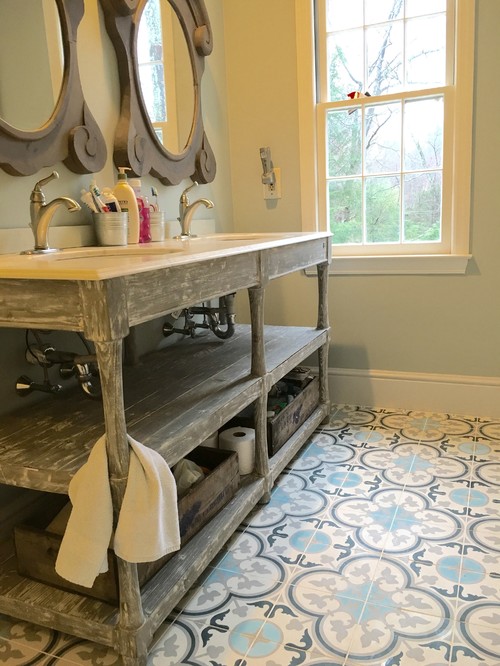 Photo by La Grange de S.
-
Discover bathroom design ideas
To accomplish this style, choose brightly decorated tiles that feature strong geometric or bold floral patterns. The border designs in the Tunisia collection may provide exactly the look you're trying to achieve.
Decan - View Details / Get Quote »
Top Tile Trends 2021
These tile trends 2021 are beckoning you to undertake a remodeling project that features today's hottest looks.
For more cutting-edge styles that could inspire your new tile design, check out this video:
Which of these designs do you plan to incorporate first? You could go for geometric shapes, soothing colors, shiny accents or large designs.
If you need help deciding, turn to the tile pros at Artsaics. We can help you select the trendy tiles that are just right for your personal tastes and home style.
Call us today
to get started on your 2021 renovation project.