Your flooring remodel deserves the best material. Which should you choose: tile or laminate? Understanding the pros and cons of each type of flooring will help you decide which is the appropriate one to use in your home. To help you decide, we've compiled this tile vs laminate guide with the benefits and drawbacks of each one.
Laminate Pros and Cons
Laminate is a synthetic flooring product that often creates the look of real hardwood. Although there may be some actual wood used in the manufacturing process, most laminate consists of a variety of manmade materials. These materials are placed in layers and sealed together during manufacturing.
You can learn more about the characteristics of wood-based laminate flooring in the following video:
Pros
Laminate can be a smart choice if you like the look of wood, but hardwood floors aren't in your budget. Even if the laminate you choose doesn't contain much real wood, it can still look like it does. Some mimic the look of tile instead.
Laminate planks come in a variety of shades, grains, sizes and styles, so it's easy to find a design that goes with your decor.
Laminate can be quite affordable too. This type of material usually runs about $2 to $8 per square foot. There may be an installation cost to consider too, but this material is often suitable for DIY installation.
Laminate is often appealing to families because of its durability. Compared to real hardwood, it's less likely to show dents or scratches.
Resembles hardwood or tile

Variety of styles and colors

Affordable

Durable
Photo by Randall Lee's Flooring America
-
Discover living room design ideas
Cons
Although laminate is generally durable, you do have to be careful about getting it wet. Not all varieties are waterproof or water-resistant, so you'll want to shop carefully, especially if you plan to use it in the kitchen or the bathroom.
No matter which type of laminate you install, it's smart to wipe up spills right away. You may also need to avoid steam or wet mopping.
If damage does occur, swapping out just one section of flooring may not be possible. You may have to replace a large area. In some cases, installing all-new laminate may be the only way to address the problem.
Also, laminate's affordable price means that it's not an investment in your home's value. Unlike some other types of flooring, laminate is unlikely to raise the amount that potential buyers are willing to pay for your house.
Susceptible to water damage

Difficult to replace damaged sections

Little impact on home value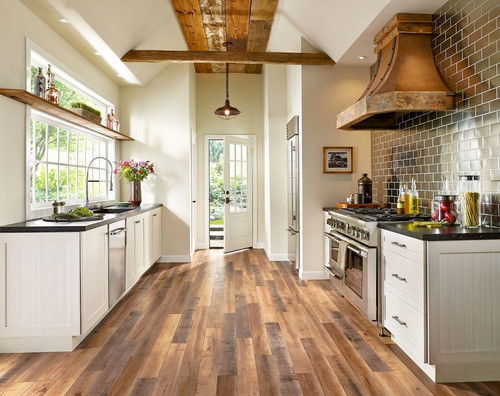 Photo by Floor Coverings International of East Bay CA
-
Look for kitchen design inspiration
Tile Pros and Cons
Floor tiles can be made from several different materials, including ceramic, porcelain and natural stone. Each variety offers its own set of benefits, and you may want to mix and match these options throughout your home.
Check out this video to learn more about your options for tile flooring:
Pros
Tile is a classic choice for floors. One reason it's so popular is that selections are available in nearly any size, shape, color or pattern. You're sure to find a style that suits your tastes.
Another benefit of tile is its ability to resist spills and splashes. Although the water-resistance of your tile floor will depend on what type of material the tiles are made of and how they're sealed, tile is generally a reliable choice for damp areas like kitchens, bathrooms and laundry rooms.
Tile is usually pretty durable. Plus, if an accident does happen, dealing with the damage doesn't have to be a burdensome process. Often, it's possible to swap out just one tile without disturbing the surrounding pieces.
Because tile is generally considered a high-end building material, using it in your home design may be good for your property value. Buyers may be especially willing to pay more for houses with tiles made of marble, travertine or other natural stones.
Many style choices

Water-resistant

Easy repairs

May increase home value
Curv Bathroom Tile Floor - View Details / Get Quote »
Cons
Tile is generally a more expensive investment than laminate. It's common to pay $5 to $13 per square foot. It's best to have a tile professional install this type of flooring, so you'll need to factor in installation costs too.
Tile floors occasionally require extra maintenance. The grout between the tiles should be scrubbed at least once a year, and you should reseal the grout annually too. If there is damage to the grout, it may need to be entirely removed and replaced.
It's not easy to damage a tile floor. Even still, dropping something heavy could crack one of the pieces.
Tiles can feel cold or hard underfoot. If this is a concern for you, think about laying down some rugs or installing a radiant heating system beneath the flooring.
Higher price

Requires grout maintenance

Can crack

Colder and harder than other materials
Tapeti Lofer Waterjet Medallion - View Details / Get Quote »
Which material wins the tile vs laminate debate for you? If you've decided that tile floors are right for your home, then you're going to want to consult the expertise of a professional tile company. A tile pro can recommend the best varieties for your home and provide expert installation.
Artsaics is the tile company to contact in the Deer Park, New York, area. Reach out today to learn more about how our tile mosaics can contribute to the design and functionality of your home.